Whether she is a summer girl or a winter one, Anarkali is a raging choice of wedding outfits amongst the brides. Lookout at the latest collection of wedding Anarkali suits of 2019 if you have your 'the day' ahead and you are feeling lost and jittery due to the preps.
However, one particular dress that is everywhere and is being personalized to suit the brides' taste and culture is the Anarkali. Yes, they are not only the most popular wedding dresses in South Asia but also the most loved ones in the USA and UK.
To make your hunt easy, Here's our take on best wedding Anarkali dresses for brides and their maids.
Light Brown Anarkali Suit (Net)
No matter which country you originate from, this particular Anarkali suit will make you an enchantress. Made out of net fabric and embroidered with stones, the Abaya Style suit is perfect for a beachside wedding or a church wedding. If you think it doesn't fit the actual ceremony, you can wear it at your bridal shower or reception party. But do not ignore this, for its one of the trending designs for wedding Anarkalis.
Grey Two-in-One Anarkali Suit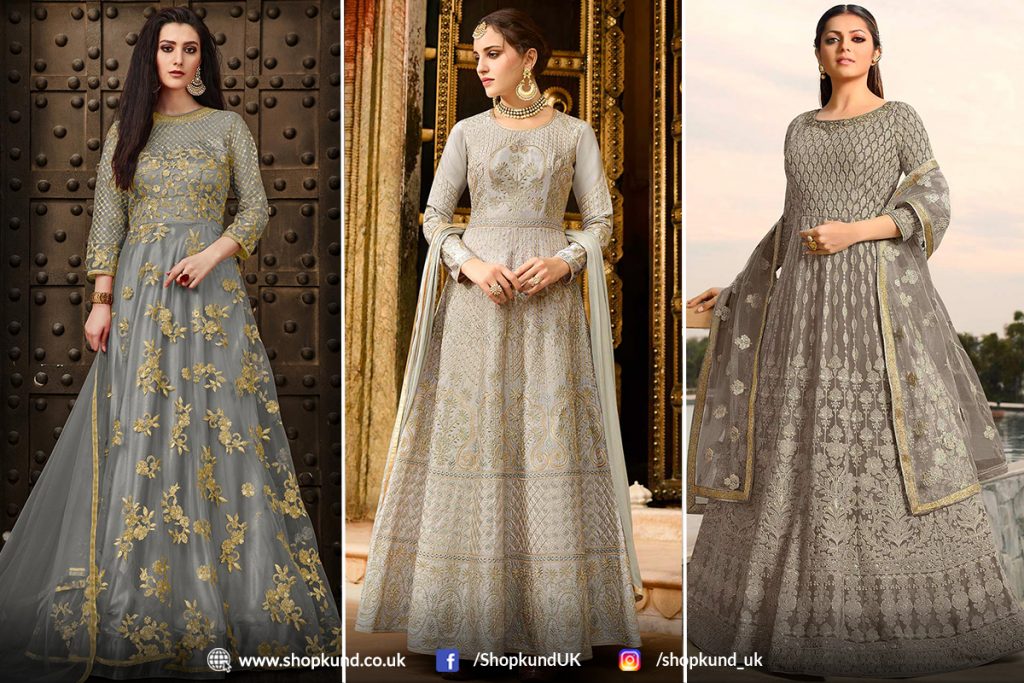 Do you want to wear different kinds of Anarkali? Maybe not a lehenga, but an Anarkali, but a lehenga too? Well, this is for you. Weddings, usually, the South Asian ones are prefaced with many other functions, such as the bridal shower, Mehendi, sangeet, roka, and so many others. While this dress may not suit the main wedding ceremony, it will be perfect for the prefixed functions.
The kameez (top) is made out of net fabric, the long bottom is accentuated with embroidery and stonework, and the dupatta is complete lace.
Red/ Black Net Anarkali Suit

Bridesmaids play an important role in weddings. They make sure the bride is happy. They entertain the groom and flirt with the groom-guys. If you are a bridesmaid, you never know what's in store for you at a wedding – perhaps a date or even your dream man. So getting dressed is essential, and this trending Red Anarkali Suit will make sure you are the second-best gorgeous at the wedding.
Buy the Anarkali suit online or custom-make to suit your preferences, and get it delivered right on time.
Onion Pink Anarkali for the Reception

Weddings have changed these days. The wedding ceremony is performed amongst close-knit people only, whereas the reception is celebrated on a large scale. In fact, today, the couple throws three to four receptions. And therefore, the bride has to look amazingly pretty at the reception party. This onion pink Anarkali will make sure the bride does.
The Anarkali suit is one of the most liked and shared reception wears of the season, which is made out of satin fabric, zari and thread embroidery, and stonework.
Pastel Green Net Anarkali
This customizable pastel green net Anarkali suit is a divine piece. Since, pastel shades are on vogue now, thanks to our Bollywood divas, this green one, that is made out of net fabric, having Resham embroidery and moti work is one of the most purchased Anarkali suits online.
Thanks to internet shopping, now you can buy Anarkali suits online across the world. In fact, you can even personalize the measurements or make to order a particular design at Shopkund. Don't forget to check the New Arrivals because that's where the actual diamonds are displayed.