It is absolutely wrong to say that men don't have many fashion choices to rejoice. In this, everyone has an abundance of choices. Just look outside the box and may end with a little more than you have had expected.
For instance, in India, men have a collection of kurta pyjama for festive occasions or casual days as well; for wedding times, sherwani set thought to be the grand choice for a North Indian groom; in South India or East India, men have traditional silk or cotton dhoti with golden embroidery and kurta.
So, things are pretty different and splendid for the same reason.
Today, we are going to discuss about the types of kurta pyjamas for both casual and ethnic look because this ensemble is mostly opted by Indian men for most of the occasions. Check out the ways to spiff up the look and what's new in trend.
Kurta Pyjama With Jacket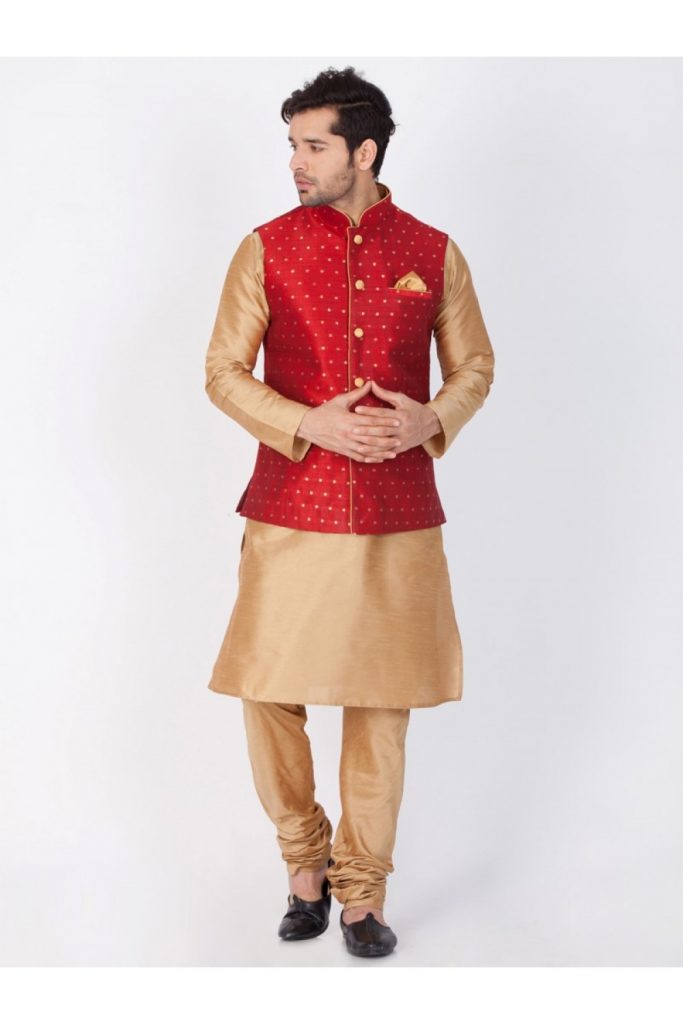 Kurta pyjamas can be taken as casual as well as ethnic garbs for men. And there are some types of a kurta pyjama set that can play well in both cases, such as kurta pyjama set with a jacket. Get a serious ethnic look by donning the set with jacket and ditch the jacket other time to have a comfy casual look.
How to style: Wear it with embroidered Juttis.
Kurta With Dhoti Style Pyjama
This is one of the favourites of many men because it a beautiful combination of classic and modern age fashion accent. The pyjama is styled as dhoti, showcasing numerous diagonal pleats, forming a chudi near the ankle. This outfit is a great pick to wear in high collar events such as official ethnic party, wedding and other auspicious ceremonies and festivals.
How to style: Be a minimalistic and don't forget to wear mojaris or Punjabi jutti with it.
Pathani Kurta Pyjama
Pathani is the real catch if you showcase your masculine robustness. A traditional garb of North India; especially in Haryana and Uttar Pradesh, this kurta pyjama features a collared neckline and goes till the knee. The main catch is a pair of straps on shoulders.
How to style: Team this Pathani kurta with golden or copper coloured dhoti pants to go all traditional.
Bandh Gala Kurta Pyjama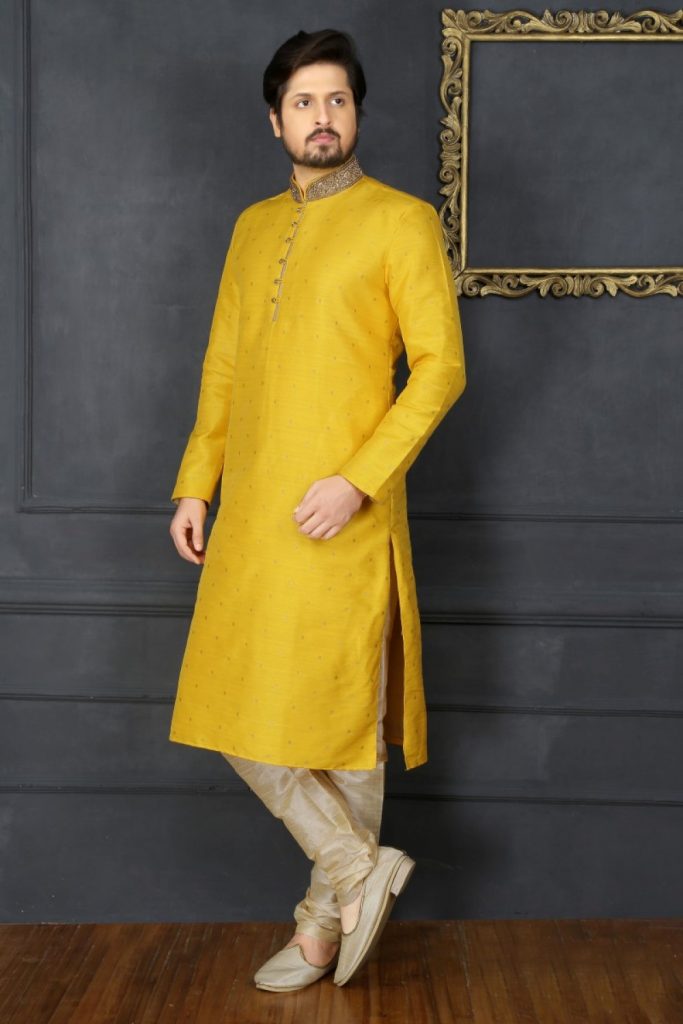 As the name suggests, bandhgala is a style where your neck is completely covered or buttoned up for a more formal appeal. These are usually paired with a basic kurta pajama but nowadays, men are embracing trendy or designer kurtas or pyjamas to complement bandhgala blazers.
This Men outfit is the best option during winter weddings as it will keep you warm and cosy throughout the event.
How to style: Buy a monotone ethnic kurta pyjama set and wear it with brogue shoes.
Churidar Kurta Pyjama
The style has been adorned by women for many ages. The same style is now available in this genre too. Churidars means slim pleats, created the length of the pyjama. You can add a hip-length tailored waistcoat to churidar kurta pyjama ensemble, and you are ready to attend a wedding. Leave a never-fading lasting impression on your peers with a textured Nehru jacket and silk kurta churidar set.
How to style: You can accessorize it with mojaris and leather strap watch.