Churidars have always been a fantastic and traditional choice of women in India. The main focus of this traditional Indian clothing is on the salwar, which has multiple 'churis' or 'pleats' at the cuff part of the length. Due to the same reason, these salwars make your complete figure look slim and tall. The churidar salwar suits are always the first choice of women on various occasions, festive events, casual outgoings and etc. The kameez of these salwar suits are almost thigh length but you can also avail full length kameez. The dupatta with these salwar suits are available in matching or contrasting size, but nowadays, the millennials are choosing contrasting or more artistic silk dupattas to wear with them.
Choices and options are many when it is about churidar suits or Patiala suits in India. But when you the different types of churidar suits, you know a great deal, when to pick one of them and why. So, let's dig in more to unravel the road of fashion.
Anarkali Churidar Suits
One of the most classic types of salwar suits is Anarkali suit, in which churidar salwars are the most common. Churidar showcases the beauty of Anarkalis in the most stunning way. They highlight and enhances the volume of the flare of the Anarkali kameez. Also, when you wear Anarkali suits with pumps or stilettos, they look more attractive. Wear sheer and easy to carry dupattas with these types of salwar suits or Indian clothing for a perfect match.
Plus Size Churidar Salwar Suits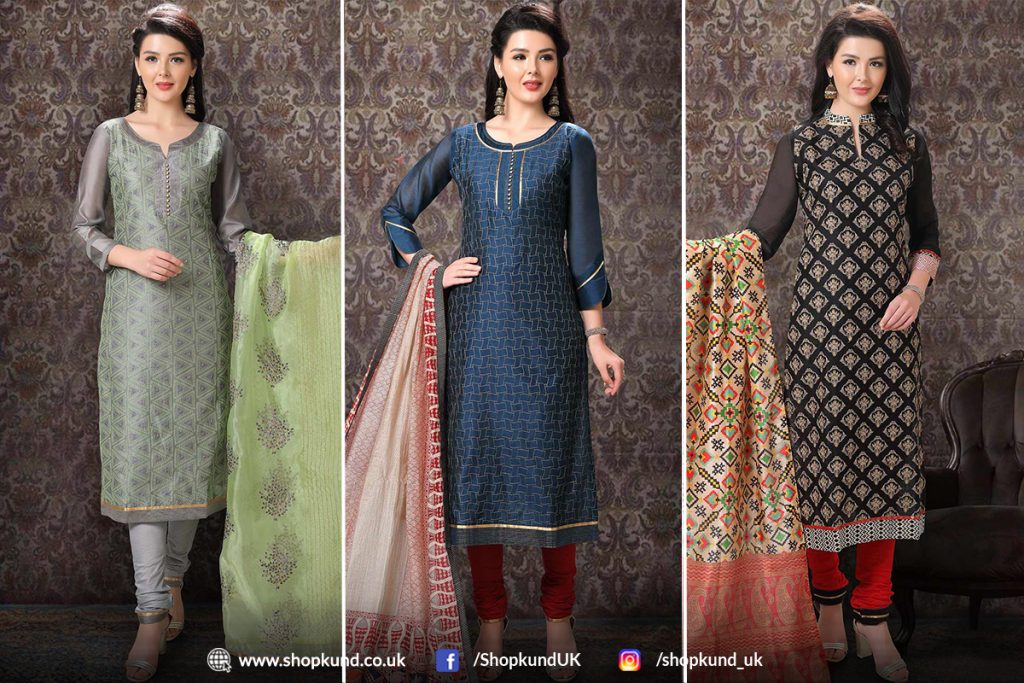 Due to the over demand and in order to provide more confidence among women, plus size dresses are also available in the market. One of the most demanding plus size dresses is Patiala suits or Patiala dresses. These dresses have a loose salwar which unlike churidars are loose throughout the length and have several vertical pleats. Picking the same concept, the churidars are also available with more gheras to fit a wide range of shapes and sizes.
Border Work Kameez & Churidar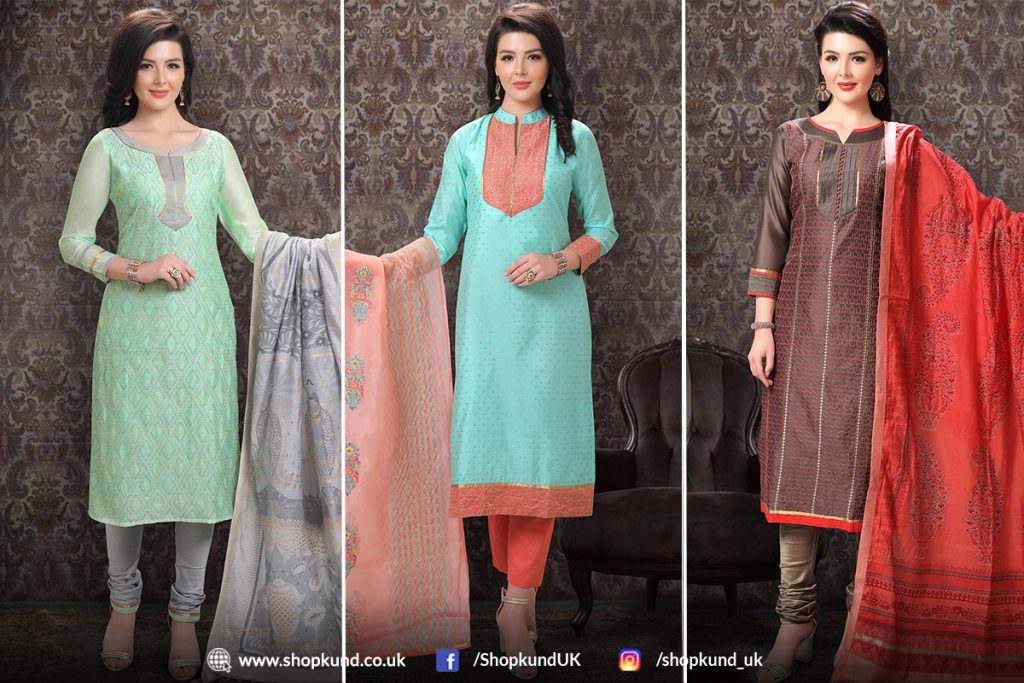 Have you noticed the most prominent work pattern in churidar salwar kameez? It is the border work kameez that makes it so nostalgic. Be it narrow border work or multi-coloured border or broad chikankari, embroidered Patiala dresses work, these look amazing on Churidar salwar kameez sets. Mostly available and worn by women of India, when adorned with fine stone embellishments, these can be worn in wedding events as well.
Lace Style Churidar Salwars
Lace style salwar suits are the most delicate ones. Besides its dainty art, lace work Indian clothing is quite popular among the bridesmaids and bridals as well. Available in a vast range of colours and designs, these types of salwars are definitely to be worn with short kameez.
Zippered Churidars
The new modern style of churidars that are currently quite popular among the new buds are zippered churidars. These do not have any hassles to fit your leg into them and can be easily worn like your second just with the help of pre-fitted zip.