Silk has an indigenous beauty savoured by fashionistas and classic fashion lovers all around the world. The most stunning part of silk is that it is available in various kinds of its own, and each one of them has very unique features and characteristics. Thanks to the best designers in India, strive to produce the finest designs and styles to attract a wide range of the group.
The incredibleness of Banarasi silk, Kanjeevaram silk, Assam silk, Kosa silk and many other types of silks are not unknown by anyone out there. One of the recent yet excellent ranges of silk type that has won the hearts of many is Banglori Silk. Be it Banglori silk sarees or Banglori silk wedding lehenga or Banglori silk Anarkali suit, this silk fabric has always offered utter comfort and beautiful appearance to the wearer. Banglori silk fabrics are woven with high-grade threads with the help of big machines to make a smooth texture appearance.
Making Of Banglori Silk Lehenga Choli Online
The weaving and production phase of Banglori Silk is a little bit complex when compared to other types of silks. The professionals use high-quality threads to weave the silk fabric and every feature is intricately given to prevent shrinking and make Banglori sarees perfect for a day-long run. From the usage of the best technology in the making of Banglori silk lehengas. Banglori Silk fabric is thought to be extraordinary because of its seamless features such as lightweight, colourfastness and smooth texture.
Getting the best quality Banglori silk Lehenga Choli UK is no easy cake but if you are searching at some reputed online shopping platforms such as Shopkund, you will definitely find a good range of Banglori lehengas. 
If you are searching for the latest trendy Banglori Silk Bridal lehenga choli for the upcoming special event; let this blog be a useful catch for you.
Dual Shaded Banglori Silk Wedding Lehenga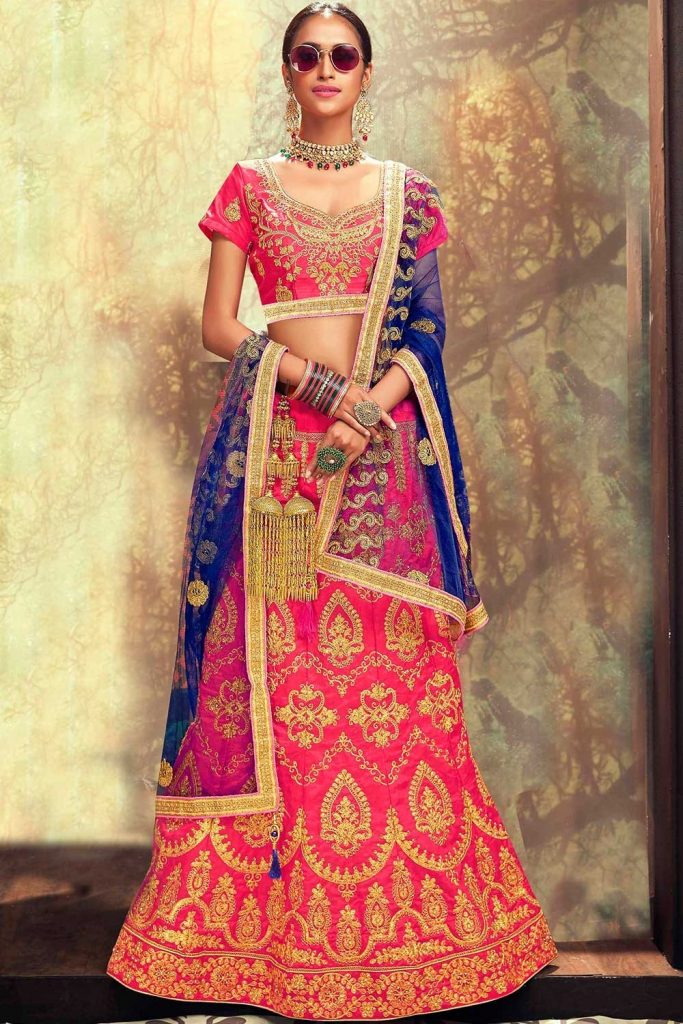 Lehenga choli is always loved for the fashionable punch at any occasion and Indian festive event. If you are searching for Online Wedding Lehengas, then you surely wouldn't want to miss this dual shaded Banglori silk wedding lehenga in blue and major pink colours. The typical golden thread design on this lehenga makes it a perfect catch in every wedding event. 
A Gist Of Pastel
The major show of this lehenga is the peacock work pattern at the border of the lehenga skirt. The mixture of golden thread work is making it look royal and lavish at the same time. Also the combination of light green and hot pink is a sure match for your special occasion.
Simple & Floral
Floral can never go out of fashion and thus, missing this lehenga choli in Banglori silk is a major loss. The simple yet pretty pink design at the border of the skirt and choli is spiffing up the beauty of this lehenga.
Mint- Flavour Of Freshness
Don't miss the major hit of the season – mint coloured lehenga choli online for your wedding occasion. The heavy floral red coloured design at the border of the skirt and yoke of the blouse is making this set very appealing.